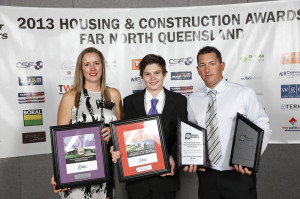 "Delivering high quality homes and renovations to
happy clients and maintaining our good name in the industry."
Mark Watson Constructions is a custom home builder in Mission Beach with a total commitment to quality and customer service. Since forming in 2007, they have been consistently delivering high quality homes and renovations in the Mission Beach and Tully areas of Far North Queensland. In that time, their hard work has earned them the loyalty and gratitude of customers, and the recognition of the industry.
Recently, at the 2013 MBA Awards (Master Builders), Mark Watson Constructions' dedication to quality workmanship and service paid off in the form of several awards. Awards included a Rising Star Award, an award for Home Renovation / Remodelling Project ($276,000 to $575,000) and an award for Apprentice Employer of the Year. Mark Watson has since won an award at state level for the same renovation category.

"We're very honoured by that recognition," Mark says. "When you're singled out as one of the best in your field, you can't help but feel proud."
He credits the company's award success to a number of factors – their hard work, their quality craftsmanship, and the strong relationships they forge with customers.
Click here to view the Mark Watson Constructions brochure (PDF file)